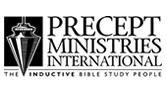 Observation, Interpretation, Application.
Precept Bible study is dedicated to equipping people everywhere with the tools to discover Truth for themselves by studying God's Word inductively. This method uses an investigative approach that takes each person to the text directly and allows the students to get personally and intimately involved with the subject.The Precept Upon Precept study method is widely acclaimed for their practical, personal approach to Bible study. If you would like to know more about this ministry, please visit the
Precept International Homepage
. If you would more information on the current study, meeting places and times, or have any questions in general please contact the church office:
pmorgan@cbcradford.org
.