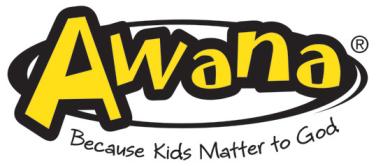 ​
Every Sunday night during fall and spring, Calvary Baptist Church ministers to children through a club-structured program called AWANA. The ministry is for children 3 years of age through 6th grade. Bible-centered literature and memorization of God's Word highlight the ministry. AWANA is an acronym for Approved Workmen Are Not Ashamed, taken from 2 Timothy 2:15. The primary objectives are to reach boys and girls in the local community with the gospel of Jesus Christ and disciple them. Children are taught basic Bible doctrines and principles of good citizenship to make them better citizens, enhancing their Christian life. AWANA meets Sundays from 7:00 - 8:30 PM.
The club has three basic segments:
1. Game Time: Children participate in games designed to promote fun, competition, and sportsmanship.
2. Handbook Time: Handbooks contain Bible verses that are memorized and recited to an AWANA leader. Children earn rewards for completing sections and the entirety of handbooks.
3. Council Time: The most serious segment with announcements, song time, award presentations, and a message from God's Word.
For more information check out AWANA's web site, AWANA.
​