C
alvary
B
aptist
C
hurch

L

ibrary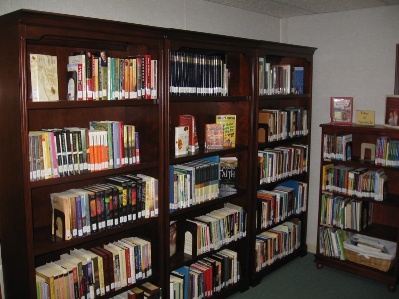 Our goal is to provide resources designed to enhance the study of God's Word; stimulate Christian growth; promote missions; and provide personal encouragement and enjoyment for church members of all ages.
Library Hours
The library is open each Sunday morning immediately following the morning worship service until 12:30 pm. The library may also be opened upon request.

Location
The Library is located just off of the large Adult Sunday School classroom as you exit the sanctuary from the platform area.
Policies
Books and media may be checked out for a two-week period and may be renewed for an additional two-week period, if desired.
Please return all borrowed materials before checking out additional items.

Please return all borrowed materials to the library during the times that the library is open.
Young children may be accompanied by parents or grandparents for assistance in checking out materials.
Board books
Designed for our youngest readers who like to touch and feel the pages. You'll find these in the basket on the bottom shelf of the children's shelf.
Easy readers
Designed for beginning readers and indicated with a call number beginning with E.
Juvenile books
Designed for children in grades 2-6; indicated with a call number beginning with J. Juvenile biographies are indicated with a call number JB.
Young Adult
Young Adult books are indicated with a call number beginning with YA and are appropriate for grades 6 through 12. Young Adult biographies are indicated with the call number YA B.

Adult Collection
Books are arranged into Biography, Fiction and Non-Fiction categories.
Media Collection
The library currently has cassette tapes, videotapes, and DVDs available for borrowing. Each of these formats is indicated with a CAS, VHS, or DVD, respectively, at the beginning of the call number.